Supply Teaching in Exeter, East and North Devon
About Emma, your Exeter Consultant
Qualified primary teacher
3 Years experience as an Education Consultant
Employee of the Year 2017 - South Devon Business Excellence Awards
School client base in, Dawlish, Exeter City, Mid Devon, East Devon and North Devon
Contact:
01392 946481
emma@educatedrecruitment.co.uk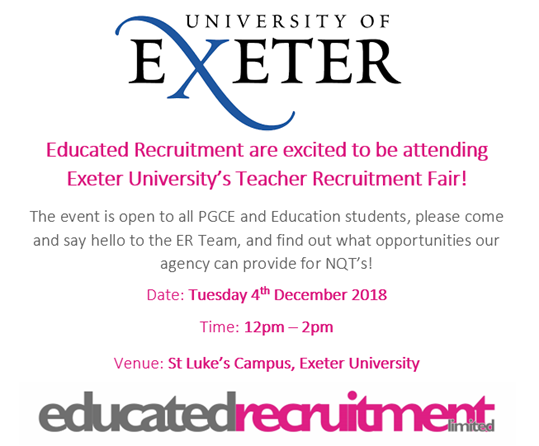 Working with Educated Recruitment....
We would love to share with you some kind words from one of our lovely supply teachers who will be moving on after securing a role.
If you are a teacher considering joining supply, I am always recruiting for lots of exciting and varied opportunities across Exeter and North Devon.
Contact me to find out more.....
01392 946 481
OUR OPEN EVENT WAS A RIP ROARING SUCCESS!
A BIG THANK YOU to those who came to Barnstaple Library to visit myself and Marie this morning - It was great to meet you all! This is the only picture we managed to get from the day due to it being so busy! I am really excited to be working with you all in the new academic year!
If you are a supply teacher or TA who couldn't make today, it is not too late to enquire about registering with our agency!
Please contact me on 01392 946 481 or email emma@educatedrecruitment.co.uk for more details
Calling All NQT's
Are an NQT on the look out for a teaching role from September? If so, we want to hear form you!
Here at Educated Recruitment we can offer you...….
- A large range of Free Educare CPD courses including a GDPR in Schools Course
- Support in the completion of your NQT year
- Long term and Permanent placements
- Your own dedicated consultant with a superb knowledge of the area and its schools.
Contact me today for more information.
Clip n' Climb Teachers' Championship
We had a fantastic time at the Teachers' Championship at Clip n' Climb on Friday evening - A huge thank you to supply teachers, Tom and Alice for being part of Team ER - You were absolute Pro's! Also a massive thank you to ER Consultants, Kate and Chloe for representing our agency and for being part of the team - We were very close to the top and did amazingly!
Hot Jobs - December 18 / January 19
Year 9 TA Required - Dawlish Area
A school near Dawlish are looking for a full time Year 9 TA starting on 7th January until July 2019
- 5 days a week
- January 2019 - Easter
Science Teacher Required - Barnstaple
A secondary school near Barnstaple are looking for a Science teacher from Monday 10th December - Friday 21st December
- 5 days a week
Please contact Emma for more information
French Teacher Barnstaple
A secondary school near the Barnstaple area are looking for a French teacher from Monday 7th January until Easter.
- 5 days a week
Please contact Emma for more information
Year 4 Teacher Required - Uplyme
A school near to the Lyme Regis area are looking for a year 4 teacher from 7th January 2019 - July 2019
- 5 days a week
Seocndary Supply Teaching Assistants (SEN) - Exeter
I am actively looking for teaching assistants for an SEN school in the Exeter area.
Applicants are required to have experience of working with children with Autism and Special Needs Education
Maths Teacher - Great Torrington Area
We are looking for a Maths supply teacher from January 2019 to the end of summer term.
- Full time
- NQT's and Experience teachers are welcome to apply.
---
FOR MORE INFORMATION THESE OPPORTUNITIES PLEASE CALL 01392 946 481 or email emma@educatedrecruitment.co.uk
The University of Exeter Teacher Recruitment Fair
Thank you PGCE students for coming to see us yesterday at the University of Exeter!
We were extremely pleased to see so many faces and to receive such a high amount of interest in the opportunities in schools Educated Recruitment has to offer.
We would also like to say a massive thank you to the University for having us!
If you are an NQT looking for supply teaching opportunities please do not hesitate to get in touch!
TESTIMONIALS! :-)
"From the moment I contacted Emma at Educated Recruitment, I knew I made the right choice for my supply agency. The efficient, easy and professional approach to all aspects of teaching goes hand and hand with a warm, welcoming friendly style, which makes each teacher feel special and included. I especially like the convenience of contact via text. The rate of pay is excellent for supply work, and I've had the opportunity to build relationships with a number of schools, leading to regular work.
I would like to take this opportunity to thank Emma, and all at ER for their continued support which allows me to combine supply teaching with my role as a trainer. I whole heartedly and unreservedly recommend Emma and Educated Recruitment as a supply agency." Siobhan, Primary Teacher, Exeter
"I have been registered with numerous agencies for some time, but Educated Recruitment stand out for many reasons. The staff are highly proactive, dedicated and reliable professionals. They demonstrate implicit values and faith in their teaching staff by listening attentively and providing valued CPD. On a personal level, Emma and the team are approachable, sensitive and a pleasure to work with." Sarah, Level 3 TA, Nr Bideford
VARIOUS MORE ROLES AVAILABLE!
Please call or email for more information
01392 946 481