Providing Teaching Staff to Schools in Plymouth and Cornwall
sam@educatedrecruitment.co.uk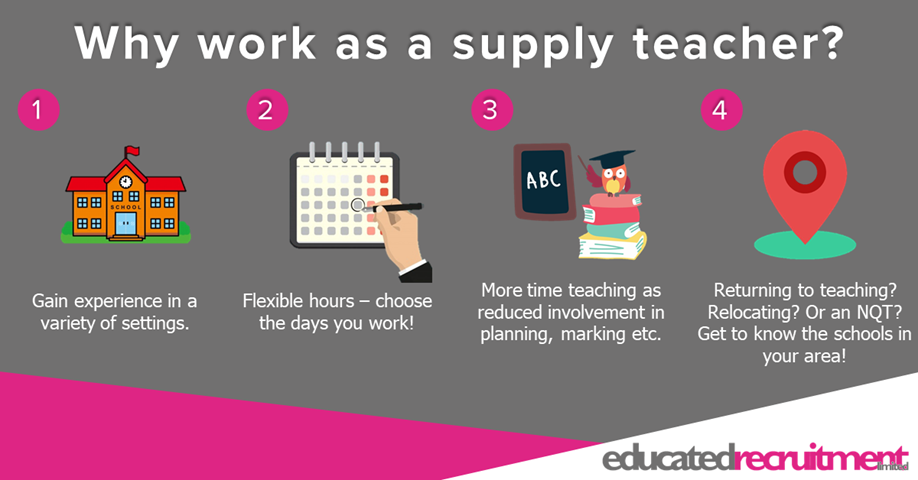 Science Teacher From September 2020
Educated Recruitment are looking for a Science teacher for an independent day and boarding school based in Britain's Ocean City.
The role would involve mainly A-Level Science teaching on a 0.4 timetable starting in September through to the Spring terms.
Leadership experience would be desirable, but not essential for this opportunity.
Job start: September
Please call Sam on 01752 915481 or email sam@educatedrecruitment.co.uk
Supply Teachers - Core Subjects
WHERE: Plymouth and Cornwall
WHEN: Supply cover - ad hoc days potentially leading to long term opportunities
THE ROLE: Qualified English/Maths/Science teachers required to teach KS3/4 in Plymouth and Cornwall schools
Supply Teachers needed for sometimes day to day emergency sickness cover, with potential to be booked for weeks at a time and with long term or permanent opportunities.
We are looking for NQTs and experienced teachers.
Would suit part-time and full-time availability
Please call Sam on 01752 915481 or email sam@educatedrecruitment.co.uk
SEN Teaching Assistant
WHERE: Central Plymouth & St Austell, Cornwall
HOURS: 8.30am-3.30pm
SEN Teaching Assistant required to work in an SEN school in Plymouth. This school provides education for students ages 3-19 with complex needs, including Austism, ADHD, and behavioural, emotional and learning difficulties.
Must have previous SEN experience, ideally within an SEN facility. Teaching Assistant experience or teaching experience, within Primary or Secondary ideal.
To cover odd days sickness, with potential for long term roles available in the future.
Please contact Sam today for more information!
Please call Sam on 01752 915481 or email sam@educatedrecruitment.co.uk
Teaching Assistants - Supply and long term
Teaching Assistants required for immediate starts for ad hoc/emergency cover and potential long term roles
Own transport needed for the outskirts of Plymouth
Full Time/Part time
To cover Plymouth, Cornwall, South Hams
For this role, you will need to have TA experience. SEN opportunities also available and also on a 1:1 or 1:2 basis
Please call Sam today to find out more on 01752 915481 or email
sam@educatedrecruitment.co.uk
You can contact me on:
01752 915481 or sam@educatedrecruitment.co.uk
Why not connect with me on LinkedIn?
Or follow our company LinkedIn page here:
FEEDBACK FROM OUR PLYMOUTH SCHOOLS AND TEACHERS:

"Hi Sam
Two weeks ago I was offered a teaching job abroad so decided to give it a go.
As things stand I will stay in the post but if things change and I return back to the UK, I will be in touch with yourselves first. Thank you very much for your support and opportunities to teach over the past year. It has been a fantastic experience which allowed me to rediscover my passion for teaching. It has been a pleasure to work with yourselves and I would happily recommend ER to others"
Matt - NQT - Plymouth

"Hi Sam
I just wanted to thank you, Marie, Emma, Kate and Maddie (and anyone else I may have missed) for all the support you have given over the past academic year. Your continued professionalism does not go unnoticed and it really is a joy to work with you.
Please would you also pass on my thanks to [Teacher] and [Teacher] as they have also worked really hard during their time with us.
I hope you all get a well deserved rest from the early morning phone calls over the summer and I look forward to working with you once again in September."
Secondary School, Plymouth

"Hi Sam,
Now that I've had time to process everything that has happened over the last week [the new job offer], I just wanted to email and say thank you so much for all of your help over the last couple of months and for being so supportive. I've really enjoyed my time working with the agency and the opportunities that it has given me!
I'm really looking forward to what's ahead and its great to know that your there if I need it.
Hope you have a lovely Christmas if I don't speak to you before. It'll be really nice to be in a school experiencing all of the glitter and sparkle that comes with it!"
Amy - NQT - Plymouth